Premium, green, business cPanel® web hosting
Offering you the tools you need to manage your websites and email
Serversaurus delivers socially responsible and environmentally friendly hosting
Serversaurus is dedicated to providing socially responsible and environmentally friendly web hosting, achieved through:
Having a four day working week for all employees, at a full-time salary, as well as contributing an extra 5.5% superannuation to female employees so we can do our part in addressing the gender gap in retirement savings
Offsetting all of our carbon emissions
Donating 1% of our sales revenue to environmental causes, including Take 3 for the Sea, Friends of the Earth, The Crossing Land, and others
Proudly being Australia's first and only web host to be a certified B Corporation, and being one of the founding Australia and New Zealand B Corporations
Ensuring our data center hardware and software is optimized for energy efficiency
Why green hosting is so important
Most people believe that using the internet and digital tools does not impact the environment.
However, data centre power consumption accounts for over 3% of worldwide carbon emissions and is projected to rise to 14% by 2040. In reality our appetite for data is powered by a huge amount of energy – currently around 416.2 terawatts per year. That's equivalent to the electricity consumption of the entire United Kingdom!
Hosting that evolves with where you're at in your online journey
Serversaurus delivers a different approach to web hosting, which evolves with where you are in your online journey, with pricing and solutions that match where you're at, and grow as you do.
Premium business website and email hosting
Serversaurus' premium, high quality cPanel-based website and email hosting is ideal for small to medium businesses that want to go the extra mile in terms of reliability, security, support and doing their part for the environment.
High-performance web application hosting
Serversaurus' high performance hosting is ideal for demanding web applications, e-commerce sites and busy websites requiring higher than normal resources. Ideal for websites that need more power than regular hosting, but not quite needing dedicated cloud hosting.
Managed Dedicated Hosting
Managed dedicated hosting on our cloud platform is for websites and applications requiring dedicated hosting and fully scalable solutions. Elastic Virtual Servers, Load Balancers, Content Distribution Network, Full API, Anycast DNS with full management, monitoring and alerting.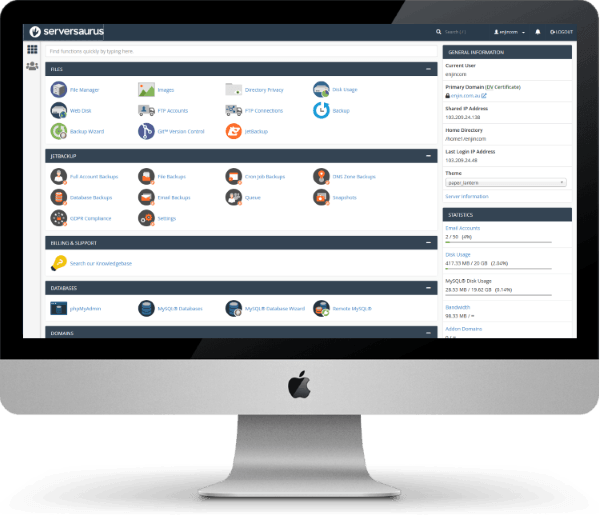 Unlock the power behind cPanel
cPanel enables you to manage your websites, email, and keep your online properties running smoothly